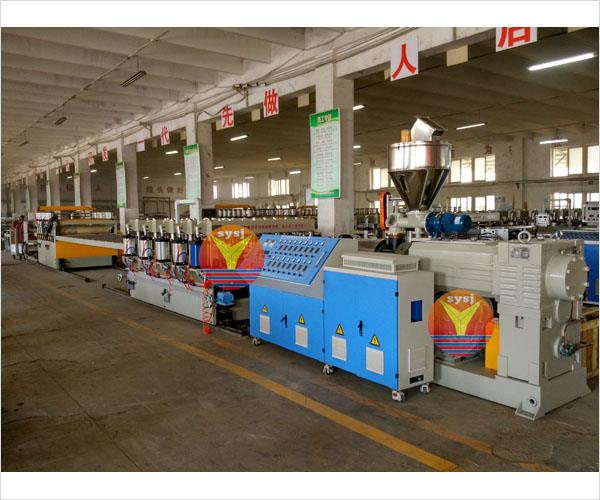 Add to Favorites
Share
WPC Foam Board Machine
Payment

Origin

China Mainland

Minimum Order

15

Packing

Pieces
Product Detail
Qingdao Sanyi Plastic Machinery Co.,Ltd is one of the leading China wpc foam board machine manufacturers and suppliers, our professional factory is able to produce best and newest CE certificate wpc foam board making machine, wpc foam board extrusion line, wpc foam board production line, wpc foam board extruding machine, wpc foam board manufacturing machine.

The world-leading equipment and rich experience with this process and this material have enable Qingdao Sanyi to create the PVC Celuka Foam Boards/Sheets that is perfectly matched to the requirements of the market.

Material: PVC+additives or PVC+wood powder+additives
Material-mixer-extruder-Hanger-style head mould-Cooling calibrating mould-Cooling carrying roller and edge-cutting device-Haul-off machine-cutting machine-Delivery device


Application of PVC foam board
1. Architecture decoration industry:
building formwork board, outdoors board, indoors decoration board, residential house,office, separation of public building,commercial decoration frame, board used in dust-free room.
2.Household decoration:
bathroom cabinet board, furniture board, home decoration board, various household shelves.
3.Advertisement industry:screen printing, computer engraving,ad.board,exhibition plate,logo plate.
4.Transport industry:
ship, plane, bus, and train, floor covering, core layer, indoors decoration plate.
5.Industrial application:
rot proof project in chemical industry, thermal shaped part, plate for refrigeration warehous,special coo
6.Other applications:
construction formwork, sports apparatus, aquaculture material, seashore wet-proof facility,water-resistant material, arts material and all sorts of light separation plate.

Qingdao Sanyi owes its unique product properties to the combination of a solid top coat and a cellular core, both made of the same material and manufactured in one single operation.

Surface strength is always important, the surface has a solid, smooth outer skin that gives the sheet a silk-gloss finish.

The hardness of surface can compare with co-extrusion sheets, but more flat than that.

Qingdao Sanyi Celuka Foam Boards/Sheets is not easy to be out of shape and have a better screw holding strength.

This means Qigndao Sanyi Celuka Foam Boards/Sheets are also ideally suitable for laminating.



4
YRS
Qingdao Sanyi Plastic Machinery Co.,Ltd
China
Favorites