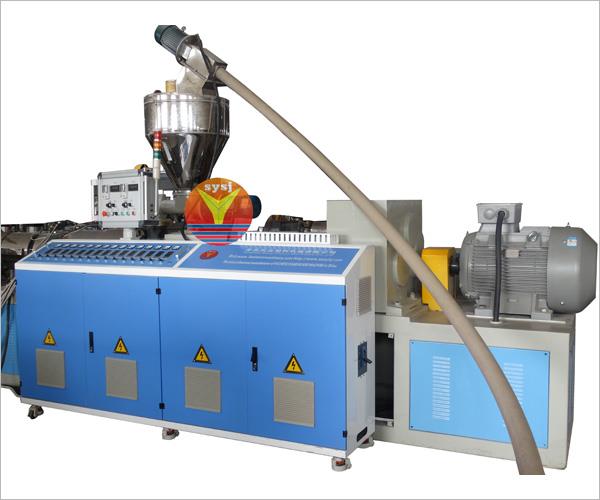 Add to Favorites
Share
WPC Construction Board Machine
Payment

Origin

China Mainland

Minimum Order

15

Packing

Pieces
Product Detail
Qingdao Sanyi Plastic Machinery Co.,Ltd is one of the leading China wpc construction board machine manufacturers and suppliers, our professional factory is able to produce best and newest CE certificate wpc construction board making machine, wpc construction board extrusion line, wpc construction board production line, wpc construction board extruding machine, wpc construction board manufacturing machine.

This line applies SJZ serials of conical twin screw extruder with imported inverter, which provides wide adjusting range and precise temperature control. The downstream equipment includes calibration table, hauler, cutter and stacker.
The calibration table is equipped with strong forced cooling system so that it can provide perfect calibrating effect.

The hauler is equipped with precision gear motor and inverter, which possesses reasonable structure, strong and stable hauling force. The cutter is equipped with PLC control system which helps to set length and provide accurate automatic cutting. The stacker is covered with rubber grip blocks to prevent products from damage.

Appliation is : construction board
Standard board size is 1220mm*2440mm (48"*96");
Thickness: 10mm (3/8"), 12mm, 13mm (1/2"), 15mm, 16mm (5/8"), 18mm, 19mm (3/4"), 20mm, 24mm, 25mm, 25.4mm (1");

it has the following features to be construction board :
Environmental protection. Whether timber resources or steel resources, both of them are non-renewable resources, the government will strict controlling the use of them via rise the timber and steel price. the raw materials of the wood-plastic building templates is recycled waste plastics and recycled wood materials. Those recycled materials is not including formaldehyde harmful chemicals, the government will promote it and have a good market in the near future.

Recyclability. The traditional building templates can not recycle it after use it, and will become solid waste, which will increase the environmental pollution. The wood-plastic building templates can be recycled, i.e. the damaged wood-plastics building waste can be crushed and as recycled materials use again.

Recycled times. Traditional wooden templates only can recycle three or four times, but the wood-plastic building templates can recycle 25 to 28 times


Intensity. Intensity of Wood-plastics building templates is 8-10 times compare with the traditional ones, and the wood-plastic templates can fall from the 3 to 4 meters height without damage and deformation. Also have the advantages of non-bibulous, non-stratification and not easy remolding.


Other features: same as the traditional templates can saw, nail and drill. And it is easy for construction workers installation and integration. Also have the advantage of flame retardant, anti-corrosive and moth-proof and can adapt to the temperature change range, eliminates the unnecessary risk of loss and potentially dangerous. In recent years, wood-plastic templates factories invest a large amount of funds and employ high-class workers, after long time research and experiments, got the breakthrough in manufacturing wood-plastic machines and technology, succeed in producing the machines and put it in operation and extrude the high quality wood plastic building templates. Every day output is 500square meters(thickness12-15mm).so get the leading position in the industry field.

| | |
| --- | --- |
| Model | SJSZ80/156,SJSZ80/173,SJSZ92/188 |
| usage | Decorative,window and door,furniture,kitchen |
| raw material | recycled PVC,wood powder, additive material,etc |
| product size | width:1220mm,thickness:3-30mm,length:2440mm |
| Extruder feature | Special designed extruder |
| wood powder ( wood fiber) | high volume of addition up to 50~75 percent |
| Plastic proceed | PVC,wood plastic composite |
| Auxiliary machine | Laminating machine,transferring machine |
| Product type | Building Template,furniture board,kitchen board,bathroom board |




Competitive Advantage:

1.good after-service

2.spare parts are free

3.guarantee:one year or according to customer's requirement.

4.advanced technology and best quality

5.international certification standard.

6.our engineer help and teach customer to test the machine.
4
YRS
Qingdao Sanyi Plastic Machinery Co.,Ltd
China
Favorites